SIMVEN Bulk Harvesting Bins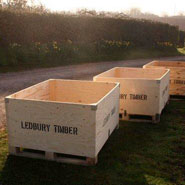 Save money on storage, transport and handling for years to come and improve your profitability.
The original SIMVEN all plywood fruit bin offers huge year on year savings over the operational life of the bin. Compared to a an identical sized, all timber bin, the SIMVEN bin holds approximately 10% more fruit. In the case of a plywood sided and timber based bin the advantage is still approx 7%. These losses of volume and consequent dramatic operational cost increases led us to only offer the all plywood Simven Bin
So if you buy 100 of our plywood SIMVEN bins, you need 110 timber bins to hold the same amount (volume or weight) of fruit. By saving 10% on storage, transport and harvesting costs every year, the profitability is greatly enhanced as all savings go directly to the growers bottom line. Even if the timber bin was purchased for £5, you would still be making more profit using the Simven bin.
It is that easy a decision to maximise profits for years to come.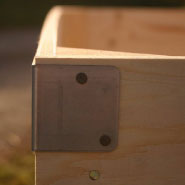 Millions of SIMVEN bins have been used in fruit producing countries over the last 50 years
Only top quality sustainable spruce plywood used for the base and sides
Plywood is fully exterior W.B.P. plywood guaranteed against delamination or structural failure when carrying design loads
Bins are glued on the posts as well as to the base to form a seal against water penetration in order to strengthen and extend the life of the bin
Reinforcing bolts through each block to strengthen and help protect against impact damage
A proven design which is environmentally acceptable in the 21st century
Bins made to order to all specifications - plan size up to 1218mm x 1218mm and height up to 750mm
Heavy duty bins made to order
Delivered fully assembled to your packhouse or orchard - Ready to use
The SIMVEN plywood bin is much lighter than its timber equivalent and is therefore easier to manually handle in the orchard or packhouse when empty.
The SIMVEN bin does not retain moisture when wet increasing the weight of a bin with timber components
The reduced weight means that transport savings are made. As an example, an extra 30kg per bin on a weight limited lorry means that over two tonnes of wood is being carried instead of fruit on each journey made.
Discover how much you could save with our online savings calculator